Our Process: What Sets Us Apart from Competitors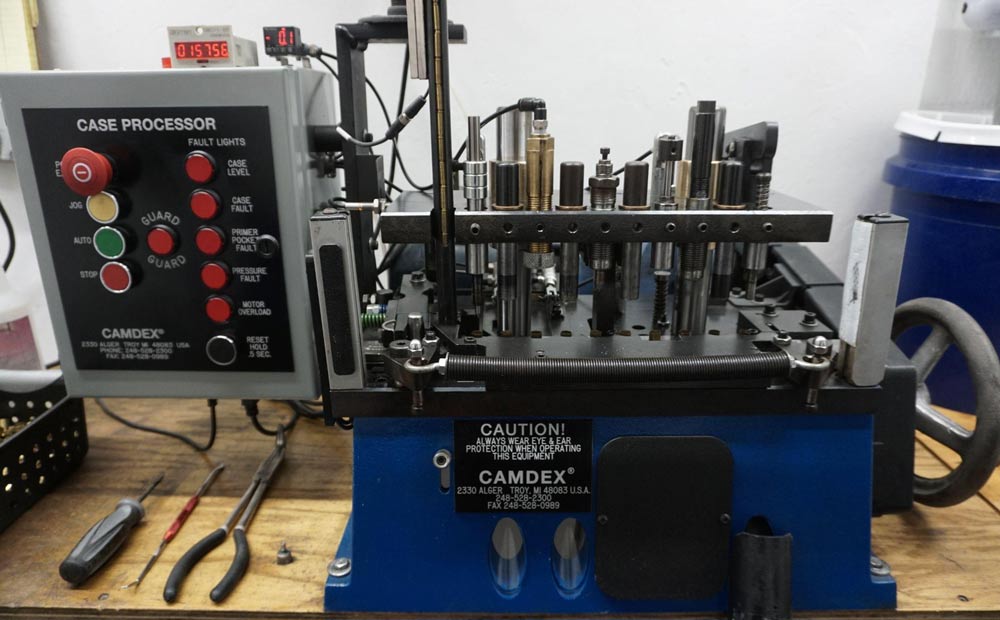 What makes Fancy Brass Co.'s process different from other brass companies?
It all starts with our processors.
Our processing equipment from Camdex is superior to other processing machines. It goes above and beyond the capabilities of normal, everyday, hobby-level processors.
Our protocol requires only top-of-the-line equipment to ensure you always get the best quality product. 
What makes Camdex processors so much better than other machines out there? The key factors are its consistency, accuracy, and advanced case monitoring system...
Consistency and Accuracy
No other processing machine on the market can match Camdex's consistency and accuracy. Problems often seen in traditional progressive presses are eliminated with Camdex's tighter tolerances and linear action.
Removing the shell plate from the equation provides a much more consistent product, and the Camdex's hardened steel floor plate and retainers provide a consistency unmatched across millions of rounds. Indexing accuracy is also a thing of the past with the linear action of the machine, precisely timed with the machine's cam system.
Primer pocket swaging is also much more consistent, allowing you to more accurately seat primers to a consistent depth. This is essential for proper ignition, especially with lighter firing pin springs in competition guns. 
Case Monitoring System
The Camdex's case monitoring system is where it truly shines and sails ahead of all other processing equipment. 
Camdex machines have a complex and thorough case monitoring system that checks for issues that other brass processors can't, including:
1. Ringed or Stepped Cases

2. Berdan Primed Brass
3. Split and Cracked Cases
4. Sorts Out the Wrong Calibers
5. Primer Pocket Inspection for Ringers
Quality Control
We take pride in our product and our quality control shows it. At the end of the day, our fancy machines aren't what truly makes our brass so dang fancy; it all comes down to our people and their dedication quality product. Our meticulous attention to detail is unmatched in the industry. Fancy Brass Co.'s constant inspection of headspace, length, and primer pockets gives us the confidence to say we have the best brass in the business. 
With today's component prices there's no reason to skimp on your brass quality. Losing primers to ringers or military crimps can cost you valuable time and money. Cracked cases are dangerous and often easily missed, even with close inspection.
You can avoid countless issues and simplify your reloading process by trusting Fancy Brass Co. as your chosen brass supplier. Shop our best-selling brass here.
2 comments